Automatic Spice Box Soap Cellophane Packing Production Line Cookie wrapping food Overwrapping Machine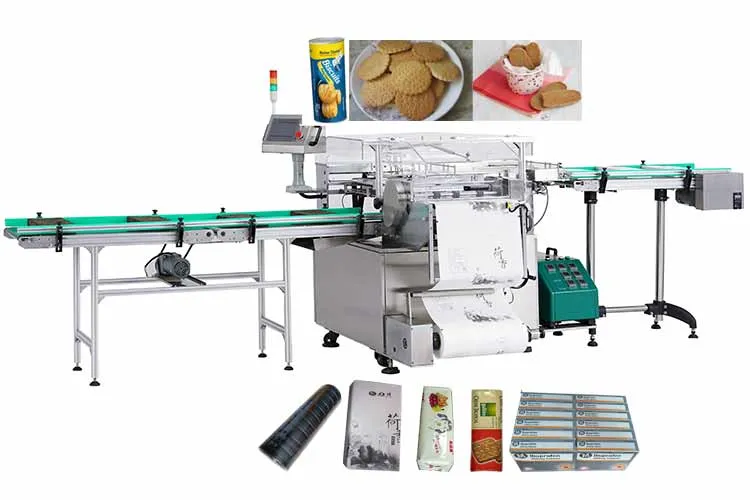 Features Of the shrink packaging machine:

Fully sealed packaging: waterproof, moisture-proof, anti-pollution, anti-channeling.

Instant sealing, no material storage at the heat sealing station: similar to cold packaging, no effect on heat-sensitive pharmaceutical products.

Dual servo control system to ensure stable operation of the equipment and control static electricity generation.

Fully automatic: automatic feeding, stacking/boxing, sorting, packaging, heat sealing, counting.

The electrical control system is centered on the programmable controller PLC: to ensure stable and reliable operation of the equipment, and stable performance.

The packaging speed can be steplessly adjusted, and box packaging of different specifications (size, height, width) can be packed by replacing the folding cardboard.

The main technical parameters:
project name

520

580

Packing size range L

×

W

×

H (mm)

(80-300)×(70-130)×(30-120)

(80-350)×(70-160)×(30-120)

Packing speed (bags/min)

(20-40)

(20-40)

Packaging Materials

BOPP/PVC/Cotton Paper/Common Composite Film

BOPP/PVC/Cotton Paper/Common Composite Film

Inner hole diameter/thickness (mm)

Φ75/0.021-0.028

Φ75/0.021-0.028

Air consumption (L/min)

(20-30)

(20-30)

Total power (kw)

2.25

2.25

Comprehensive noise dB(A)

<65

<65d

Dimensions (mm)

1820×1341×1364

1820×1341×1364

Overall weight (kg)

1000

1000

Power supply (V/HZ)

220V/50HZ

220V/50HZ

Heat sealing temperature (

ºC

)

100-140

100-140


Our wrapping machine, taking 180*130*65 single box as an example, the stable production speed can reach more than 40 per minute. But the vertical wrapping machine can only reach about 20 per minute
Why choose us:
1. We are manufacture but not trade company We have more than 20years experience on manufacturing and exporting.

2. We have Professional technical team who can advise you the suitable choice for your specific need.

3. Our Professional skill worker will make the satisfying product for you.The excellent quality control.

4. Well trained and experienced staff will answer your inquiry timely.

5. We provide competitive price and fine quality products.

6.We have the completed sales and service team so that we can offer the best service.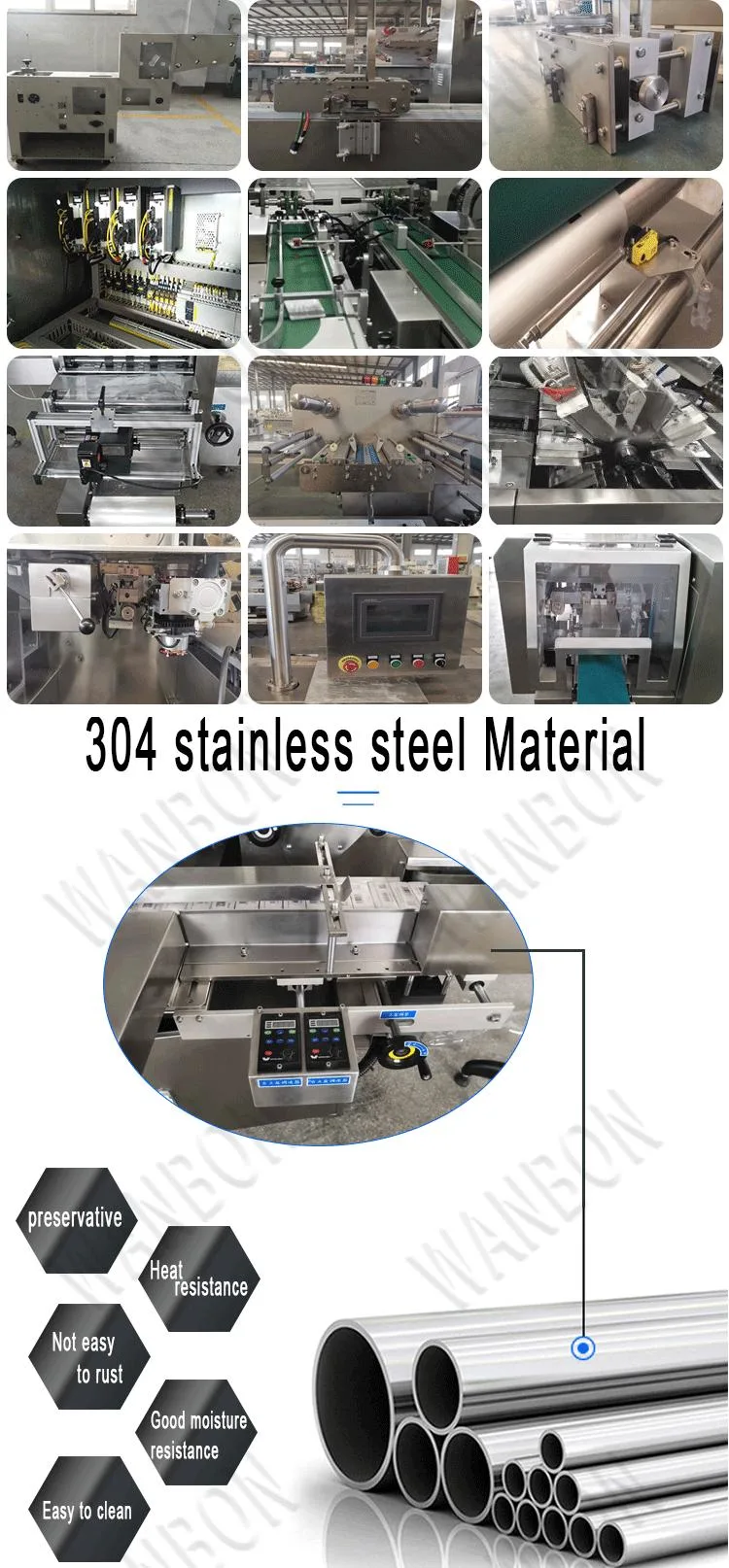 Scope of Application:

This product is suitable for automatic feeding, sorting, packaging, heat sealing and counting of large single boxes.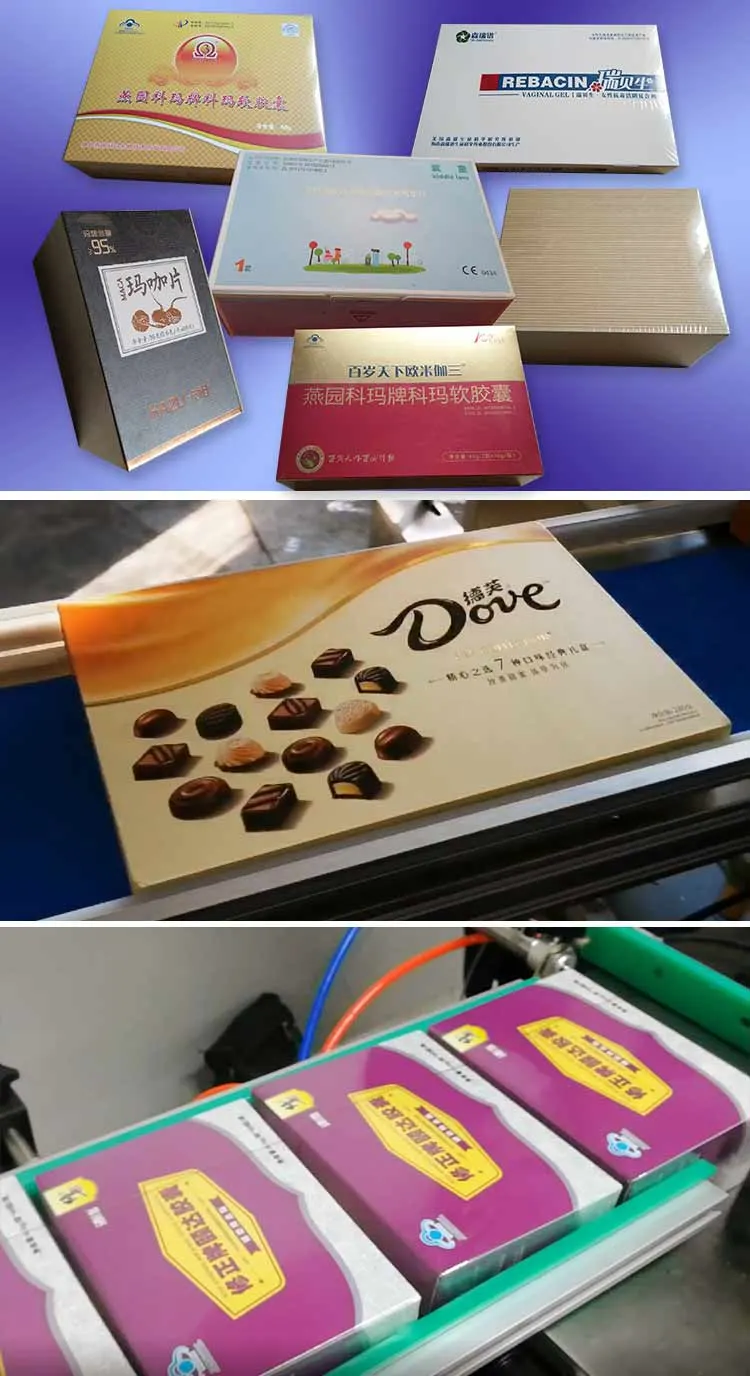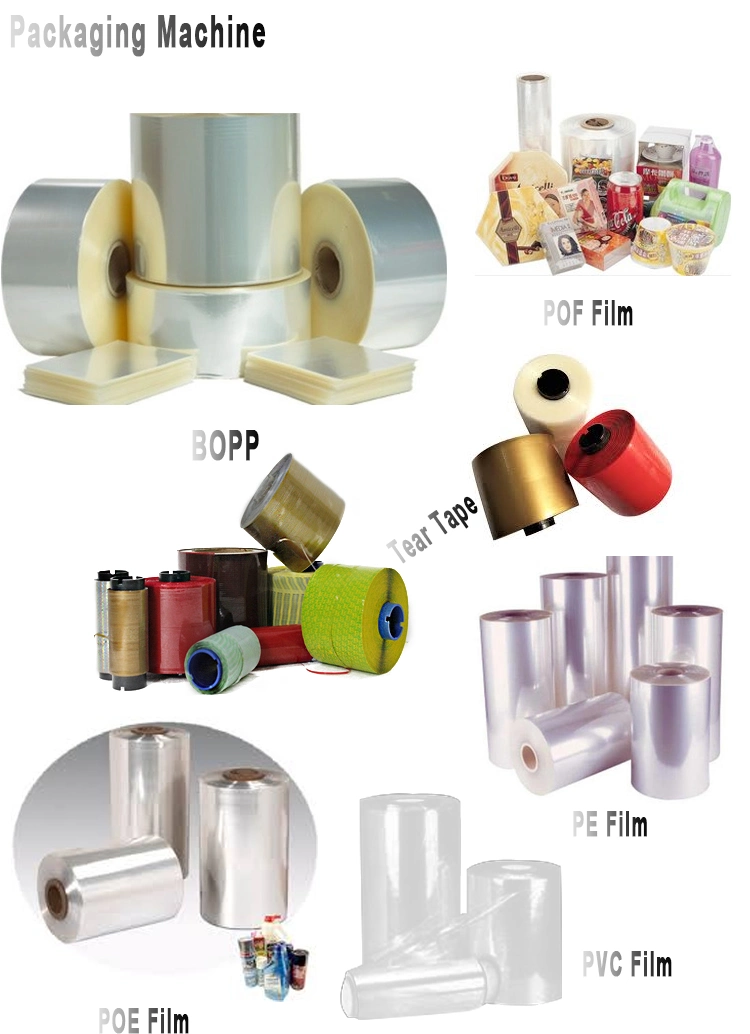 Automatic Spice Box Soap Cellophane Packing Production Line Cookie wrapping food Overwrapping Machine

Our WANBON company will provide you good after services.We can help you solve the problem through video, email, phone.If needed, we can also let our engineer go to your country to solve the problem.We hope all the customer will satisfied with our machine and services,also wish our cooperation could help you open more market and achieve win-win.

1. Accept the custom made

2. Highly pay attention to the after sell service and setting global engineer team.

3. Quality product and honest business is our principle.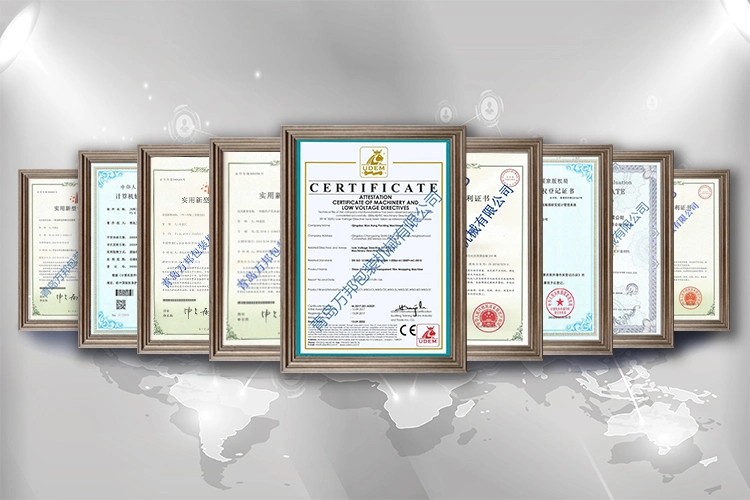 Automatic Spice Box Soap Cellophane Packing Production Line Cookie wrapping food Overwrapping Machine

1.We always use standard export wooden packing, carton box.

2.You can choose express, by air, by train or by sea. Always we will give our best recommend based on our experience.

3.We cooperate with China best shipping company to get best price and fast delivery.

4. You will get full feedback when your machine is on the way.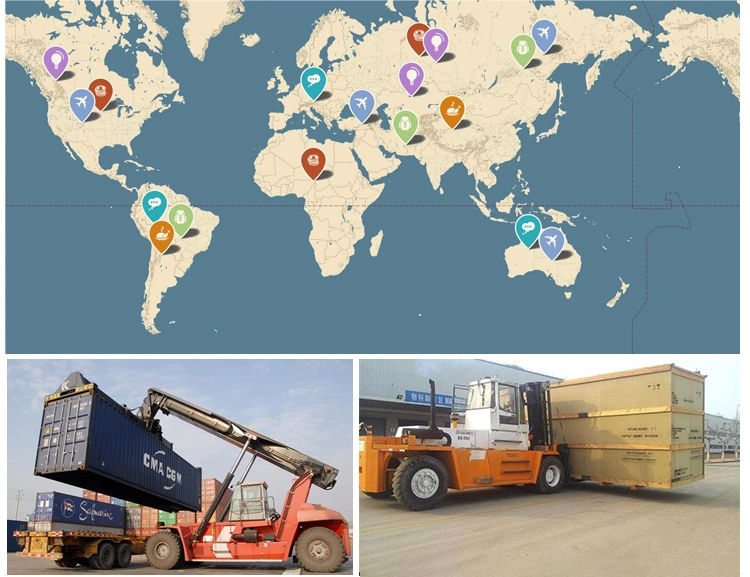 Automatic Spice Box Soap Cellophane Packing Production Line Cookie wrapping food Overwrapping Machine

Wanbon Machinery is the top one in the field of over wrapping packaging machine and pillow type packaging machine. Our R&D team and sales advisers have at least 20 years experiences, and also joined in lots of important Pharmaceutical packaging projects, including upgrading, design and installing of the whole line.

The packaging lines designed and produced by us are widely used in pharmaceuticals, food, cosmetics etc fields. We also provide excellent and individual solutions for upgrading and value-added. Main eletronic component of our packaging machine is provided by ABB, Siemens, and Panasonic, so to make sure the machine operte stably in high speed, also help our customers using machine instead of human and simplify packing procedure, finally realize auto packing, save cost to maximize profits. The company has many years of mechanical export experience. Not only has excellent quality control personnel but also well-trained skilled workers.

We keep in development and commercialize the achievement into more than 50 items of software patent,machine design patent and appearance patent. We are so certified as national High-Tec Enterprise in 2020.

Our experienced after-sale service team keep online 24 hours and promise to arrive at site to solve problem within 72 hours.

Through continuous technical exchanges and the introduction of advanced management companies, the company has established a strong quality assurance system. The company has always insisted and pursued the purpose and business philosophy is to develop together with customers and make profits together. Due to advanced management, positive attitude, good reputation, excellent equipment quality and perfect after-sales service, the company has won trust from new and old customers and a certain degree of social prestige. Based on the domestic market, the company also actively develops international markets and establishes sales networks throughout the world. The company's equipment not only sells well in the Chinese market, it also swept Southeast Asia, Eastern Europe and Africa. Market share grows steadily every year.Qindao Wanbon Packaging Machinery Co., Ltd will go all out, the company is innovative and continuous pioneering spirit for our national industrial development.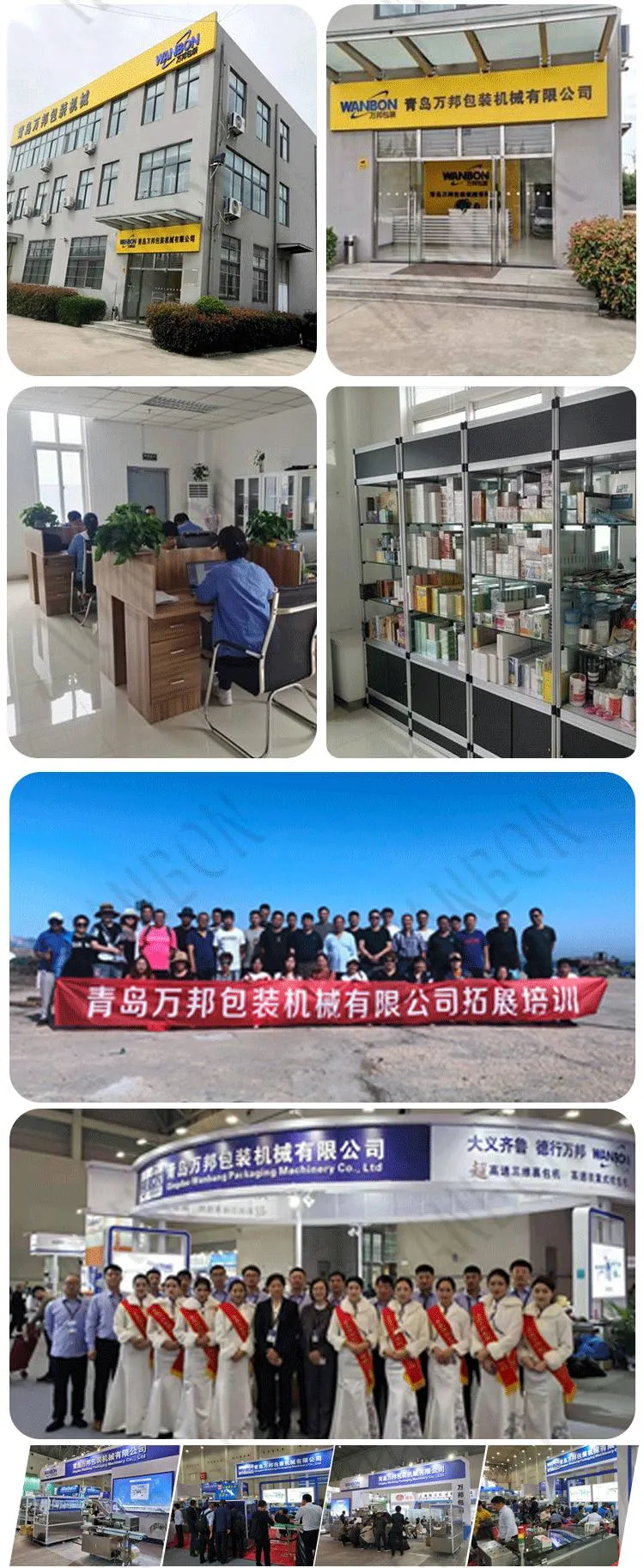 Automatic Spice Box Soap Cellophane Packing Production Line Cookie wrapping food Overwrapping Machine

Pre-sales Service

1. Inquiring and consulting support, professional packaging solutions for free.

2. Packing Machine photos & videos for your reference.

3. Before delivery, we will adjust the machine to fit for your product.

4.1to1 after-sales guarantee Adhering to the customer first

After-sales Service

1. Manules / Videos of machine installation, adjusting, setting, maintenance are available for you.

2. The machine will have a 1-year warranty for the body, 2-year warranty for the electric part.

3. Any question, you can mail/call us at any time. And our most experienced engineers are assigned to give consulting service, and always available for dispatching abroad.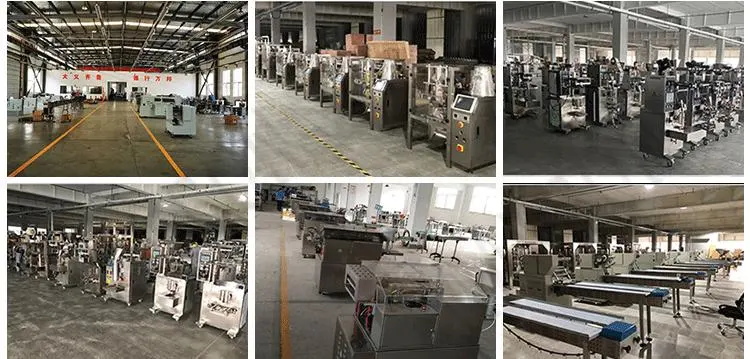 Automatic Spice Box Soap Cellophane Packing Production Line Cookie wrapping food Overwrapping Machine

Q1: Can you send me the installation video of this machine?
A1: Yes, please check the link for this video.

Q2: What is the material of contact food/material parts?
A2: The contact food/material parts are made of 304# stainless steel. The machine body can be 304# stainless steel or carbon steel.

Q3: Can this machine make different bag sizes?
A3: One former can make one bag width, and the bag length can be adjustable within a range. It should be ordered an extra former if you want to make the other bag width.

Q4: Does your company accept OEM?
A4: Yes, we have a professional design and technical team to accept customization.

Q5: When you can deliver the machine after the order is placed?
A5: We usually can arrange shipment after 30-40 working days, but it depends on the quantity of the products.

Q6: How about your warranty?
A6: We provide 12 months warranty, starts from the issue date of bill of lading.

Q7: What can you provide after service?
A7: We can provide machine testing video and pictures before delivery, English manual, some free spare parts, installation in clients' factory and technical training.
Automatic Spice Box Soap Cellophane Packing Production Line Cookie wrapping food Overwrapping Machine

Wanbon is based on the technical personnel of the original domestic military industry enterprises, and the technical backbone personnel have more than 20 years of experience in the 3D transparent film wrapping machine and packaging machinery industry. Wanbon also hires China Resources Sanjiu, Sinopharm Group, American Mars Corporation, Jiahua Group and other first-line equipment staff are technical consultants, and the company invests 3%-5% of its annual sales in R&D, and uses advanced design software and structural analysis software to carefully design and improve, and continuously introduce higher-level and more intelligent products.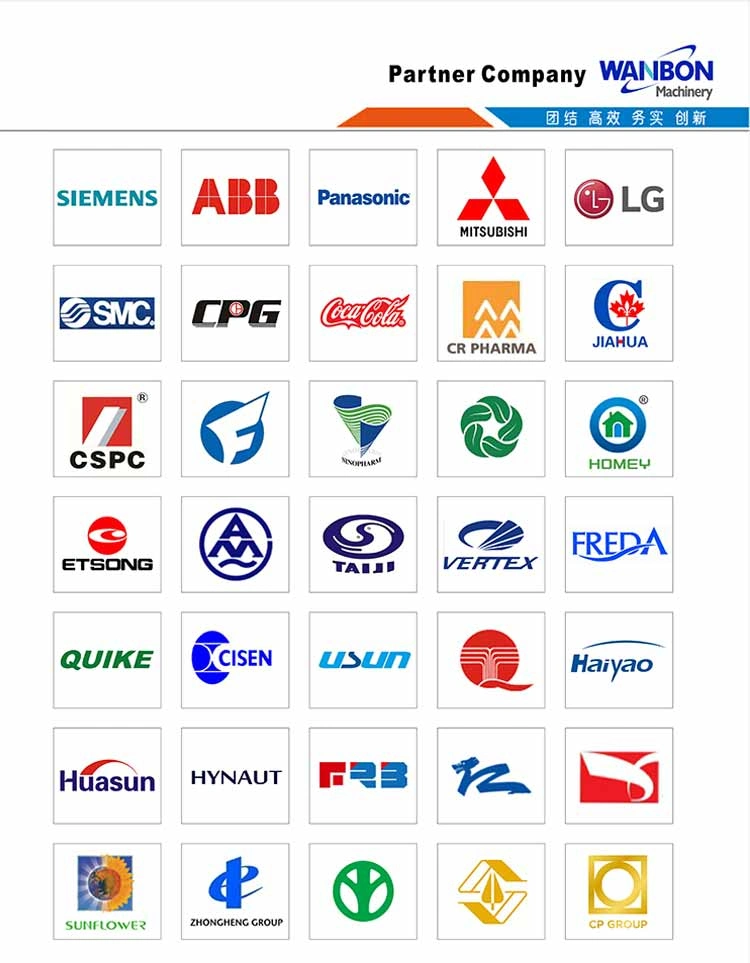 Contact Us

If you need the Automatic Spice Box Soap Cellophane Packing Production Line Cookie wrapping food Overwrapping Machine, pls contact me at :