Specification of Single Screw Platic Extruder/Plastic Extusion Machinery/Plastic Granulator
The single screw extruder can be used for extruding thermoplastics such as soft hard polycinyl chlorid(PVC) and polystyrence(PE),etc. Coordinated with the appropriate auxitary machinery,it can produce many kinds of plastic products,such as pipe, profile, sheet as well as granules.
Application of Single Screw Plastic Extruder/Plastic Extrusion Machinery
1.Pipe extrusion: PPR pipe, PE gas pipe, PEX cross-linked pipe, ABS pipe, PVC pipe, HDPE silicon core pipe and a variety of co-extruded composite pipe
2.Sheet and profile extrusion: adjust the extrusion speed and change the screw structure to be suitable for manufacturing PVC/PET/PS/PP/PC profiles and sheet,etc
3.Modified granulation: all kinds of plastic blending,modifying and enhancing granulation
Features of Single Screw Extruder/Plastic Extrusion Machinery
1.Involute gear transmission
2.Advanced design and high quality
3.Good plasticization,low energy consumption and high output
4.Low noise,stable operation and long service life
Structure of Single Screw Plastic Extruder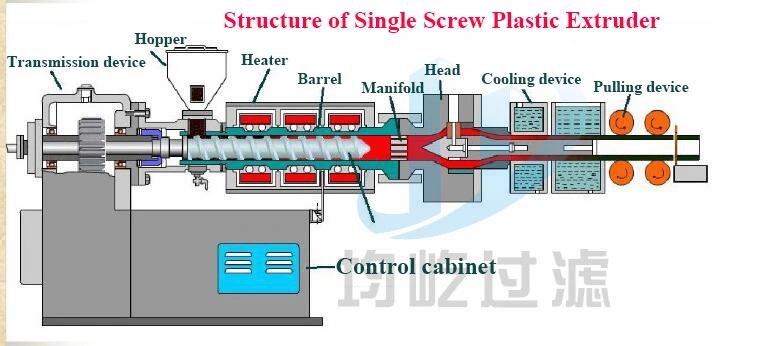 Single Screw Extruder for Disposable Tableware Produciton Line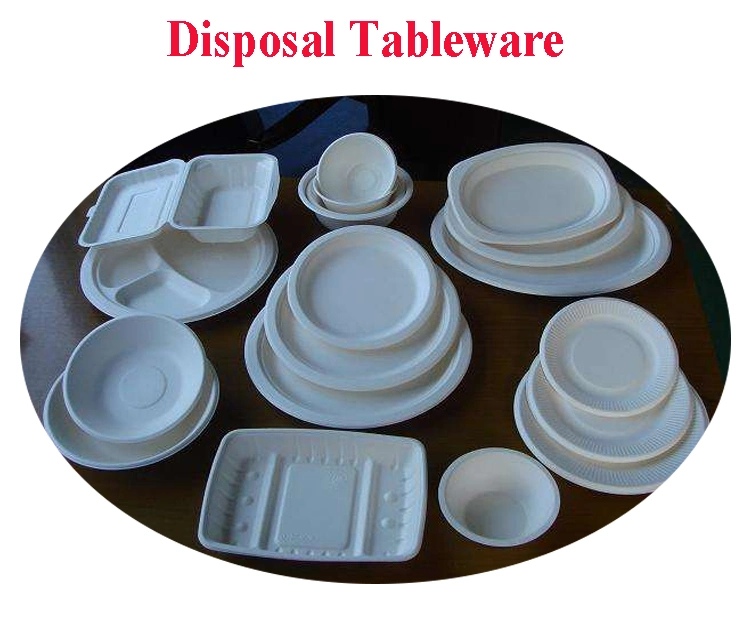 Characteristics of Main Parts of Plastic Extruder
·Twin screw, single screw and vertical forced feeder system, conical feeder and other kinds of options.
·Preventing leakage of materials and bridging phenomenon, extending the processing range of material.
Transmission system
·Attractive appearance design
·Gear material of high quality.
·High efficiency oil lubrication system
·Reliable warning and interlocking device
.Ensure the efficient, long-term stable operation of the transmission case.
Extruding system
·The range of the processing section of L/D can be from 24 to 68.
·Building block and modular design of the combination of the barrels and the screw of high elements.
·Carefully selected steel of high quality.
.Ensure the durability of the devices, reducing the customer's regular repair and maintenance.
Base frame
·Redesigning of the base frame structure has increased the overall strength and is conductive to the overall accuracy of the equipment.
Pelletizing method
·Providing a flexible solutions of pelletizer and auxiliary, including water cooling strand, air cooling strand, air cooling concentric hot pelletizing, air cooling eccentric hot pelletizing, water-ring hot face pelletizing, water-ring water-jet hot pelletizing, ecccentric water mist, underwater pelletizing and various pelletizing plans.
Electrical control system
·According to customers' requirements, providing instrument controls and many kinds of control system like PLC, PCC.
·Have realized the whole unit control, whole procedures control and remote control.
Cylinder
.The finished machining of the cylinder completes in machining center, the accuracy grade can reach IT6 which is beneficial to reduce the unit energy consumption of the product.
.The modular design of the barrel makes various types of combinations be possible, the fast and reliable heating completed by electric heaters, and the water cooling.
Screw spindle and Screw element
.The screw element shaped by accurate grinding through the CNC grinding machine specialized for screw element which is unique in country, the goodness of fit and the surface finish are far more than the product made by conventional processing methods
.The screws meshed turn in the same direction, and clean each other, so there is little residue on the screw which is easy to clean.
.Different screw elements with different leads and lengths.
.Mesh pieces: different mesh pieces with different angle, quantity or thickness.
.The screw head installed at the axial direction of screw.
.The screw element link with the spindle by splines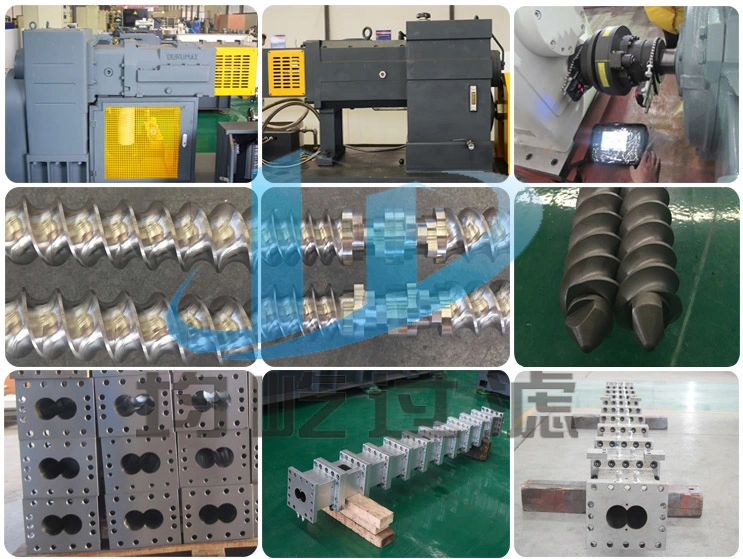 Different Models of Single Screw Plastic Extruder for your choice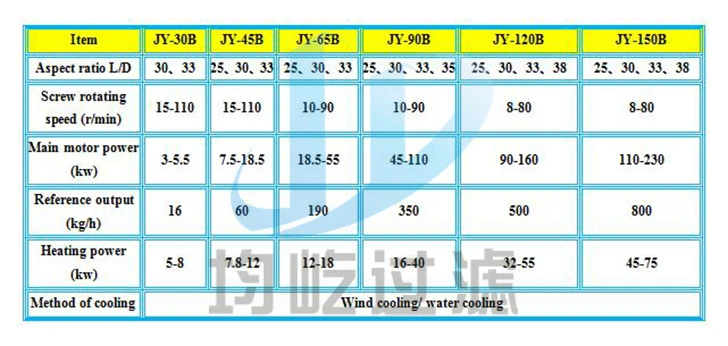 Quality Makes You Choose Us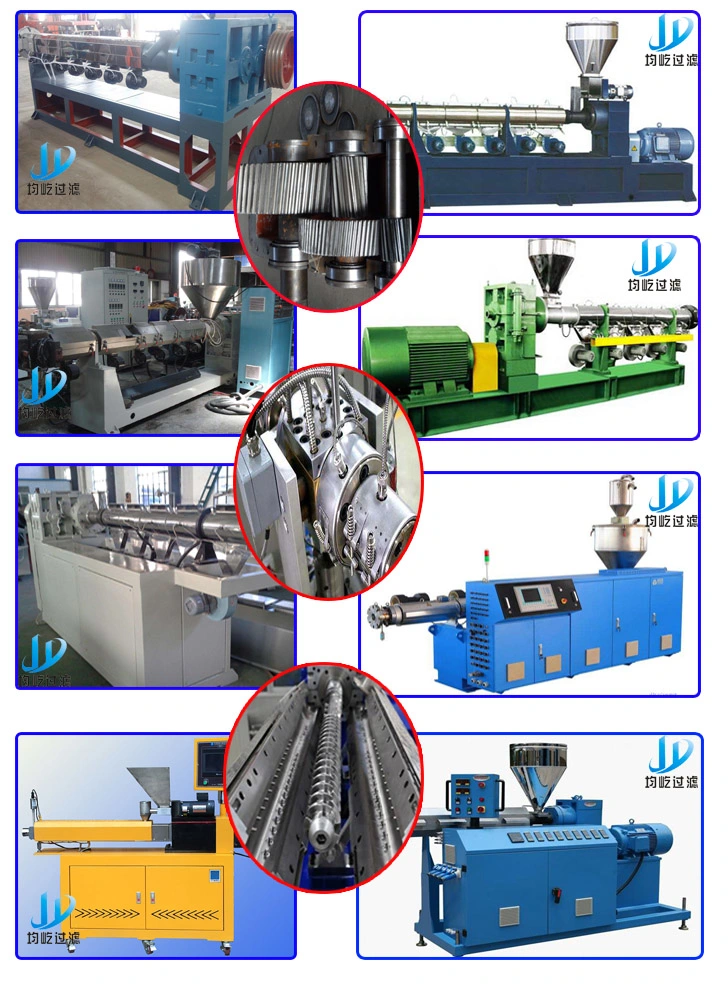 Customer Visiting on Peru Exmpo Mina Fair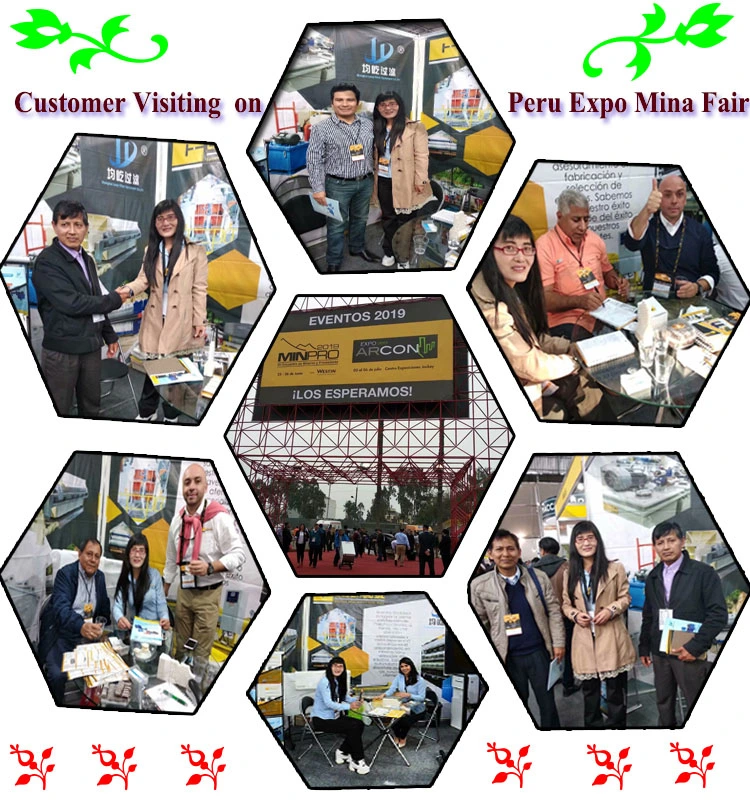 Pre-sale and after-sale service
Pre-sale service:


1.Your inquiry will be replied within 6 hours.
2.Help you to select suitable model
3.Design totally according to your requirements

After-sale service:
1.Provide 12 months warranty period and you will have our technology support forever
2.Engineering available to offer the service to your machinery overseas
Frequently asked questions
1.Q: Can you provide us the detailed drawing?
Yes, we can provide you the drawing after have made the prepayment.

2.Q: Are you a manufacturer or a trader?
We're a professional and experienced manufacturer located in Shanghai.

3.Q: Can you accept OEM?
Yes, we can produce the machinery totally according to your design standard.

4.Q: How about the delivery time?
Normally 10-20 working days after prepayment, and we promise we will make the delivery as soon as we can.
Contact us