1.Company introduction
1.BOXIN PET Bottle Washing Plants are designed for recycling of post consumer PET
bottles including labels and caps. These systems produce uniform size PET flakes with
high purity and low moisture level. Due to the variety of product standards and differing
condition of PET bottles being recycled in different regions we offer a range of systems
that can be tailored to suit your individual requirements.
BOXIN plants with the capacity from 300kg/hr to 6T/hr which meet customers' different
requirements.
Prior to delivery from our manufacturing facility, all plastic washing plants are set up and
tested under "real world" conditions to ensure the plant capacity and quality of the finished
product are guaranteed. Customers are welcomed and encouraged to attend these trials
to see their plant in operation, receive training on the operation and maintenance of their
system, and to see similar equipment in build.
2.BOUT BOXIN PLASTIC WASHING SYSTEM/PLANT
Our Universal Plastic Washing Plants are high performance recycling systems for the
recovery of rigid or flexible plastics from derived from various sources, including materials
with high contamination levels.
We are able to provide effective, customized proposals and cost-effective solutions by listening to and understanding our customers; needs. These modular
system are capable of processing general plastics including:
* HDPE Bottles
* PE Film (post consumer or agricultural)
* PP Woven Bags &Jumbo bags &Nylon
* PET Bottles
* PE PP Pipes etc.
* Depending on the application these plants may include:
* Bale Breaker - opens the bales of input material to allow it to flow and be sorted.
* Feeding Conveyor Belt - presents an even material feed to the plant.
* Pre-shredder - wet or dry shredding for size reduction and washing.
* Pre-washer - removal of some sands and other dirt.
* Screw Washer - washing and material transportation.
* Hot Washing Tank - hot washing with alkaline (caustic) soda to remove glue and oils.
* Sink-float Separation Tank - removal of some contamination and helps wash the material.
* Granulator - wet granulation for size reduction and washing.
* Horizontal Friction Washer - hihg speed washing or scrubbing of material.
* Centrifugal Dryer - machanical de-watering of the product.
* Screw Presser - machanical de-watering of the washed product through compression.
* Thermal Dryer System - hot air drying of the product.
* Zig-Zag Classifier - removal of labels and fines.
* Bag Station - deliver the product into storage bags
* Electrical Panel - provides an interface for the operator to control the system.
The correct combination, sizing and configuration of the equipment listed provides a
reliable, efficient plastic recycling systems, producing high quality materials ideal for sale,
or for use in converting equipment (pelletizing, injection/blow moulding and extrusion).
4.Machine pictures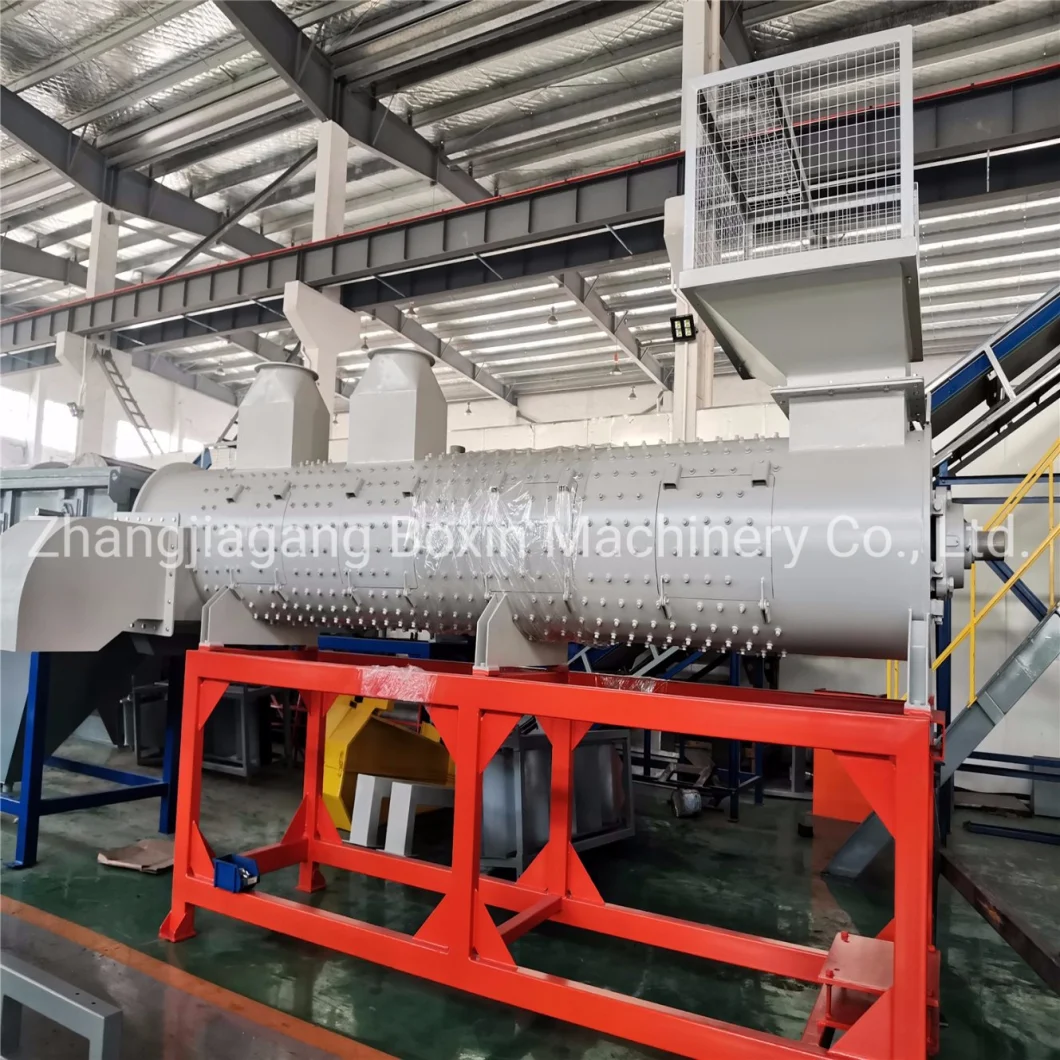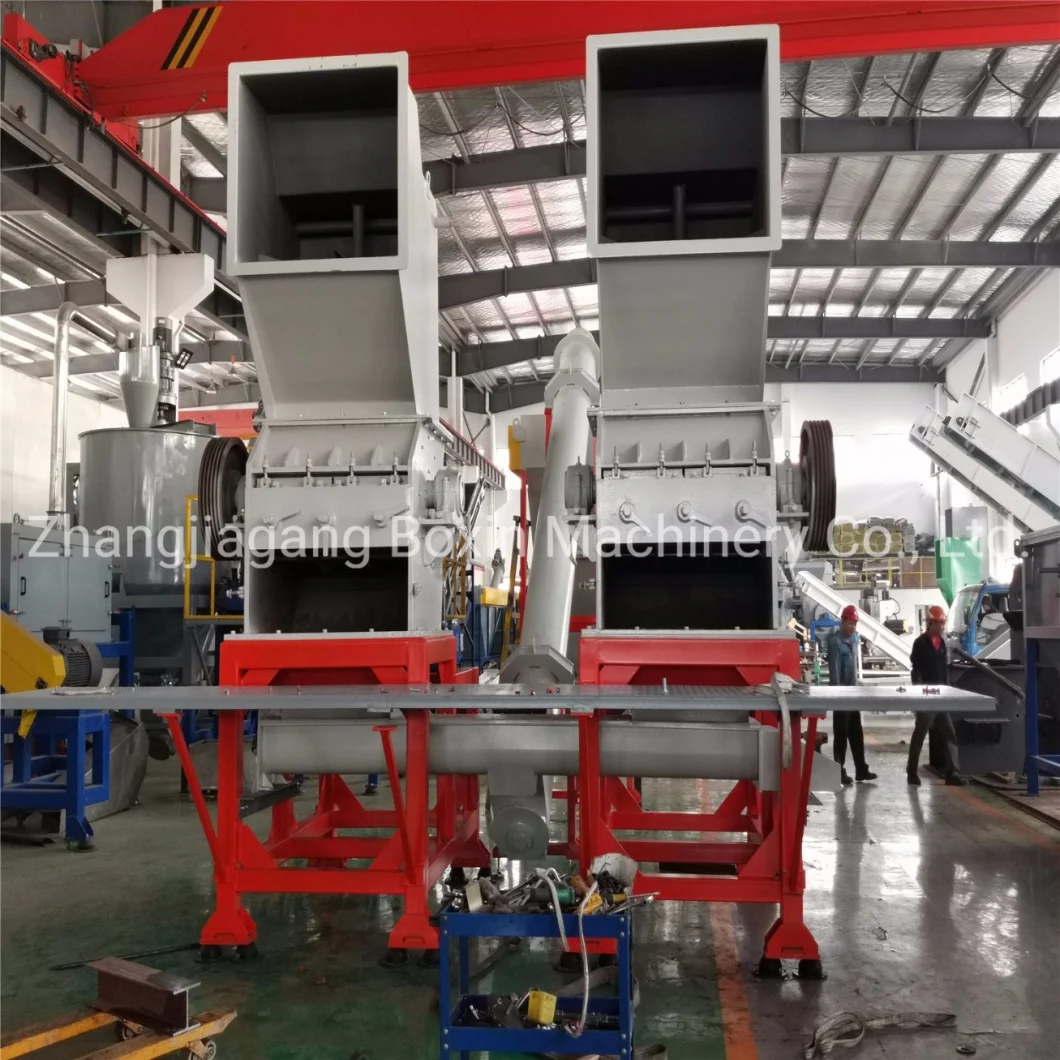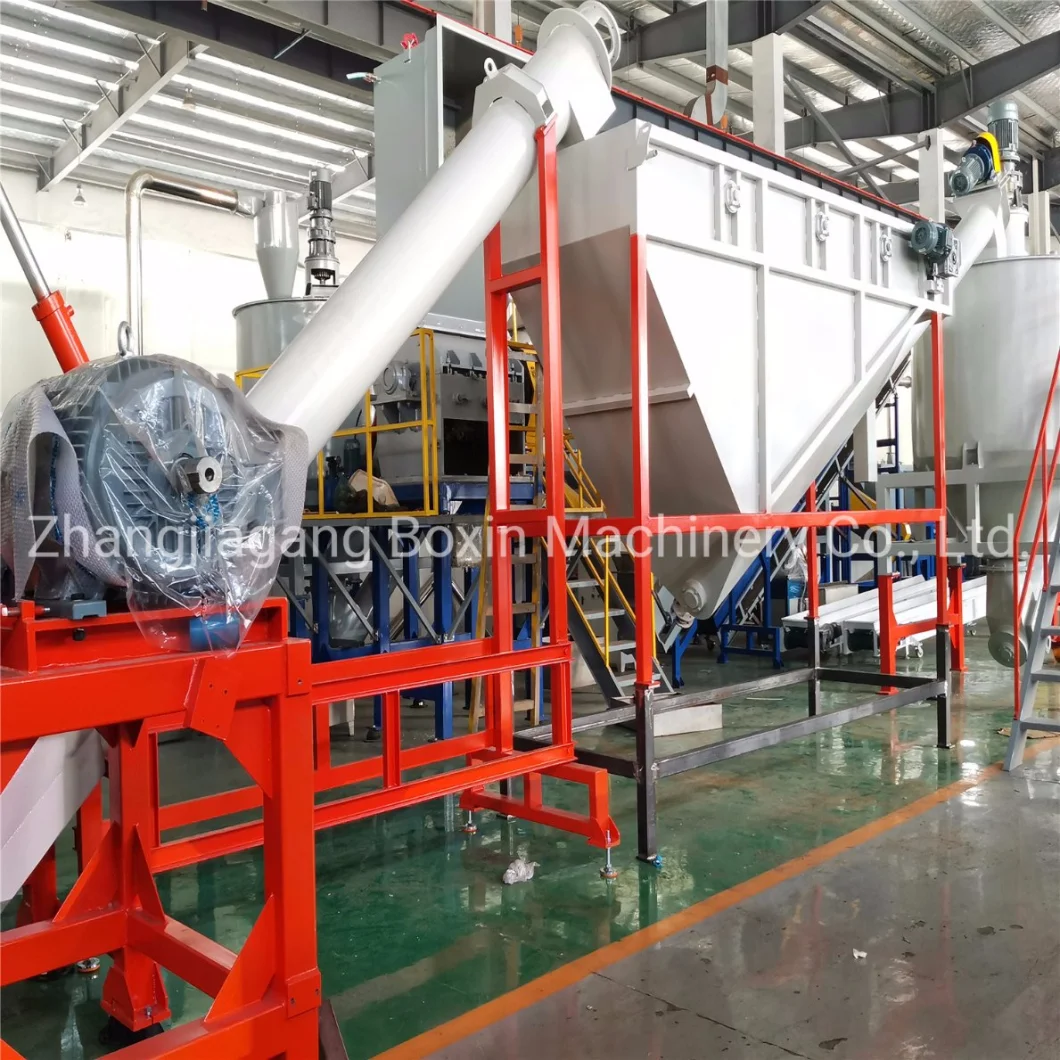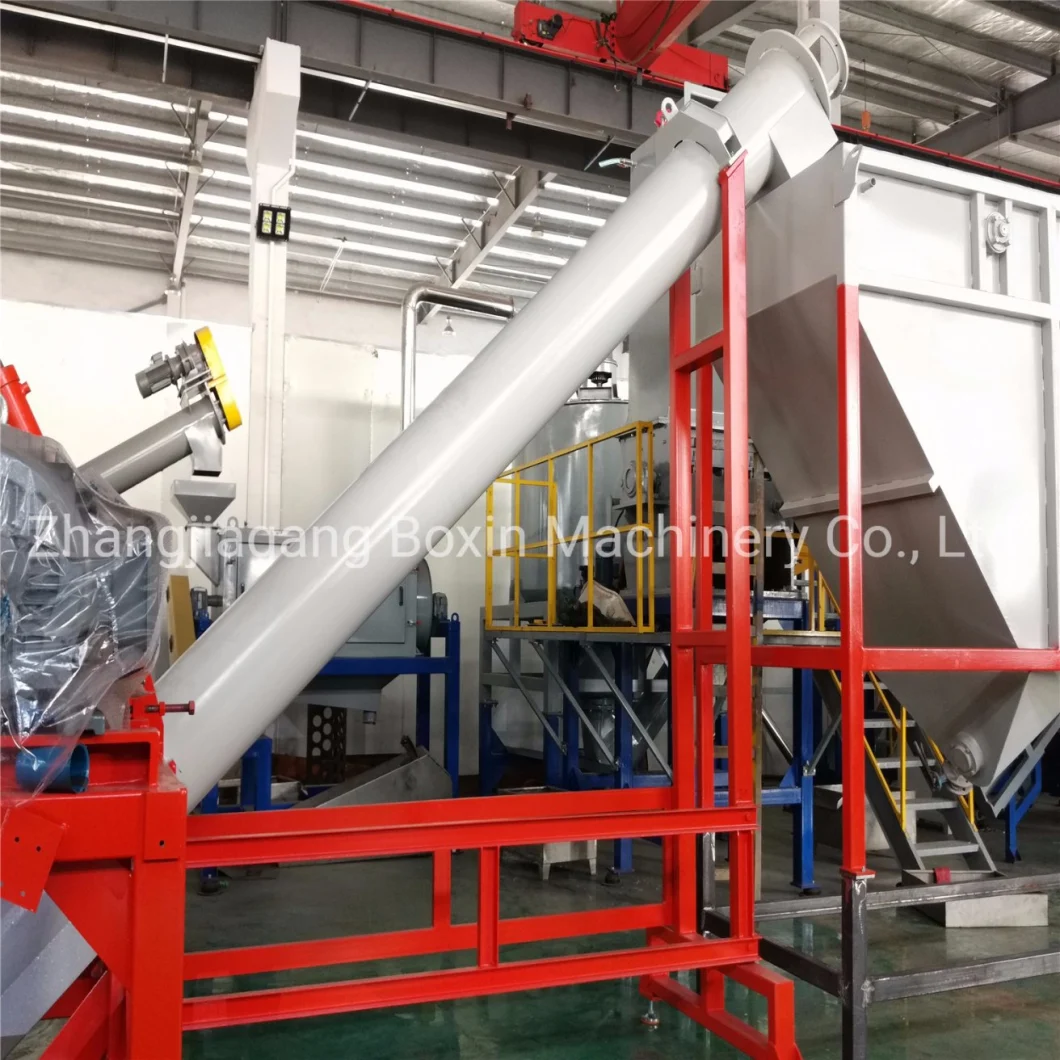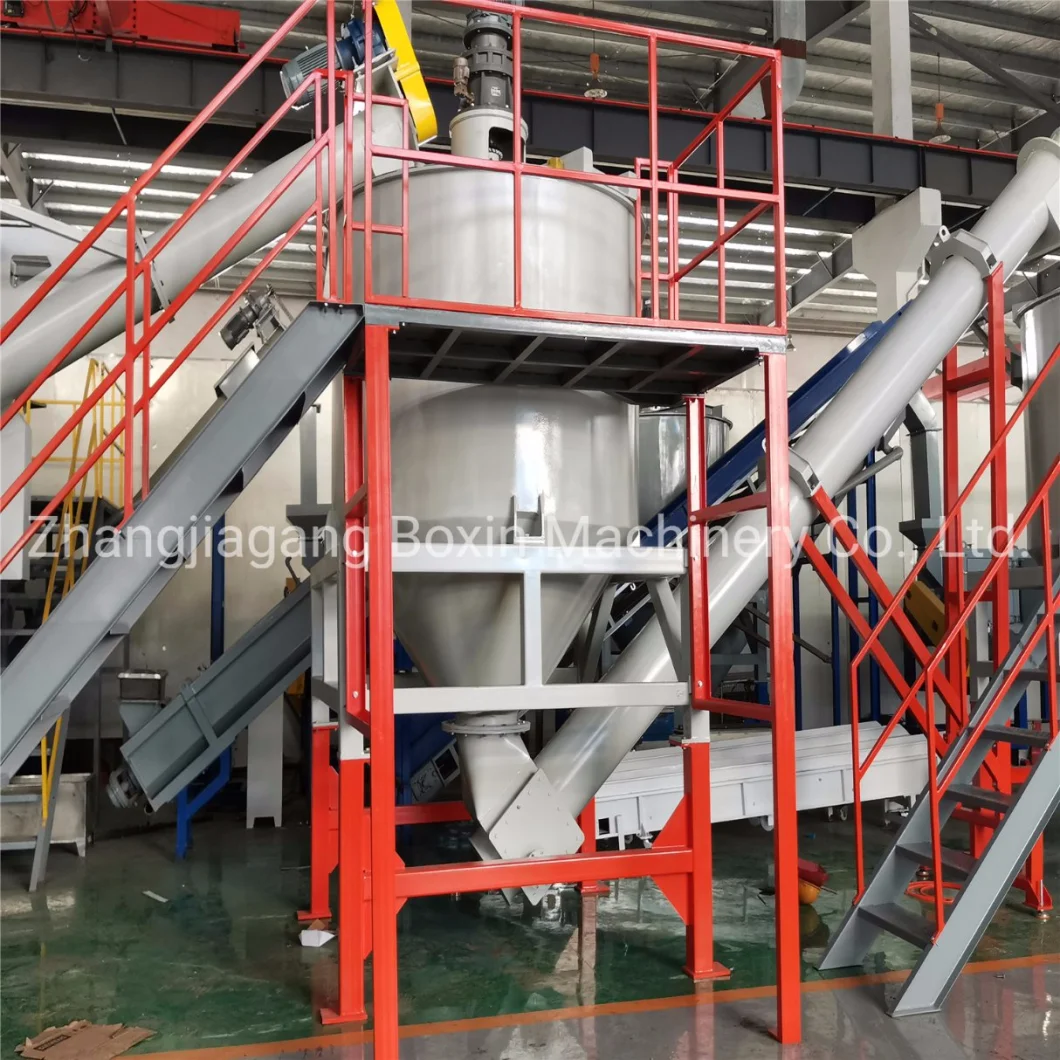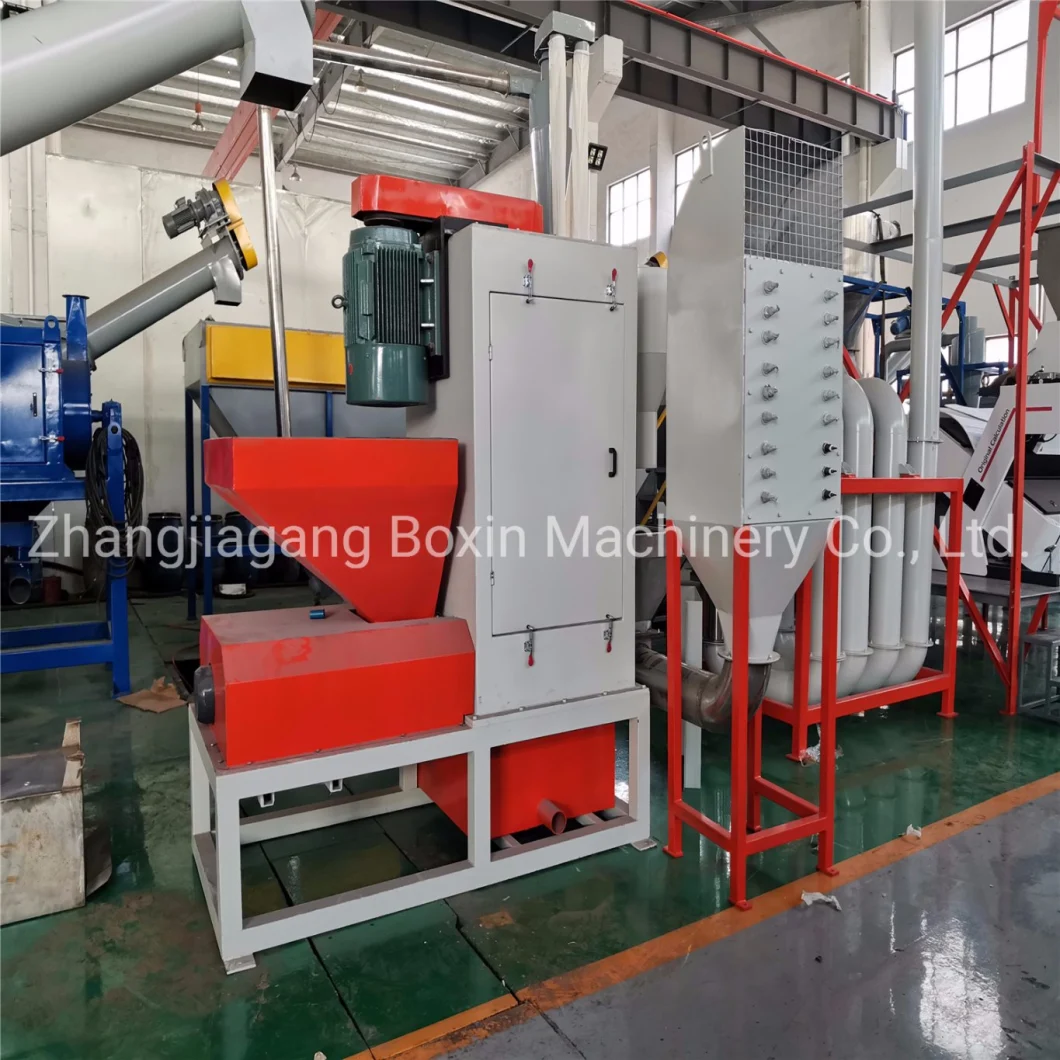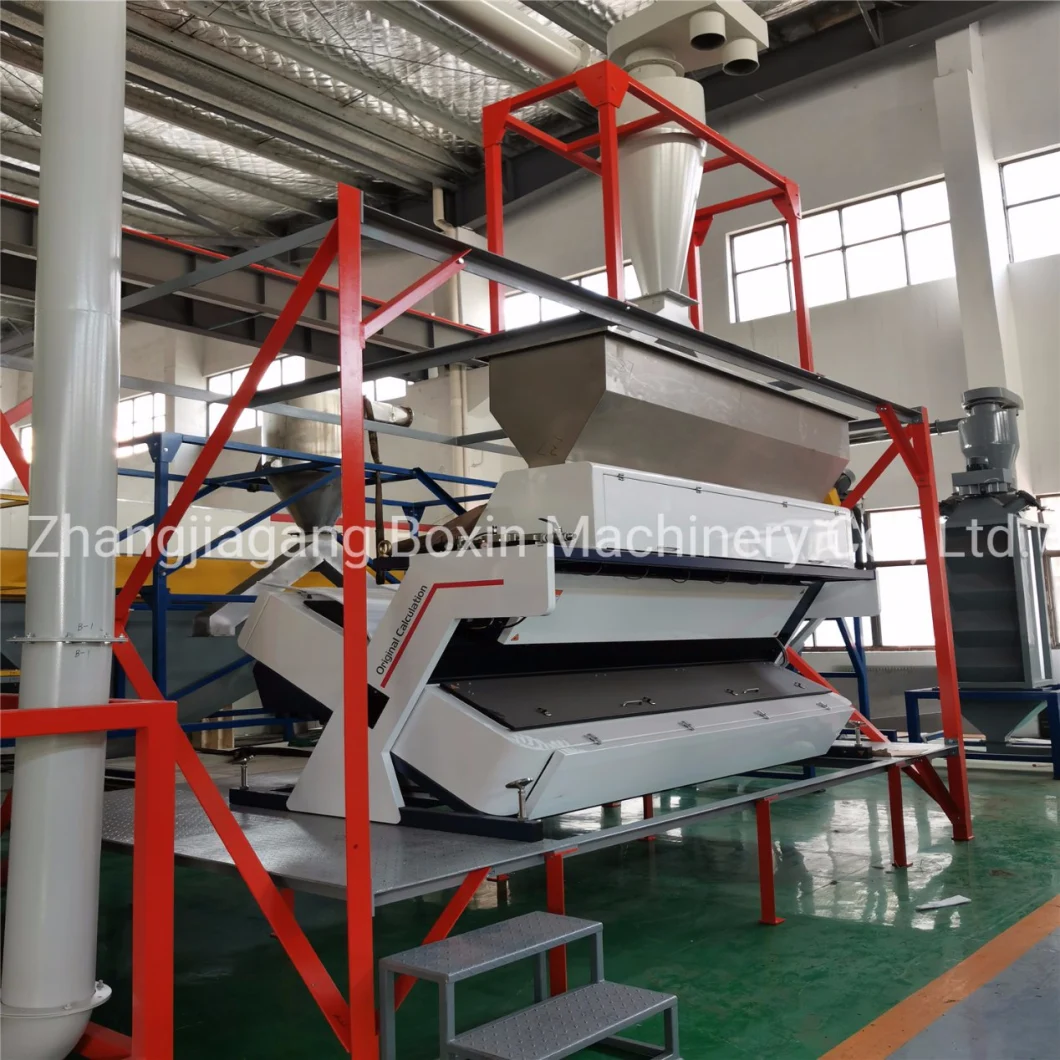 5.Feature for PET washing line:
1. High automation level, try best to reduce your cost on labor (especially for three shifts) and ensure high processing capacity: 150-5000kg/hr
2. Friendly control system (PLC integrated & separated control on each machine) and Touch screen panel, easy for operation, monitor and emergency stop.
3. All parts contacting with plastic material and water are made of high-quality 304 stainless steel; Ensure no second pollution to flakes.
4. Ideal impurity removal effect. Here is from our customer's feedback.
6.Condition of final PET flake for PET washing line
Nowadays, our PET washing line have been exported to many countries & regions, e. G. Latin-America, Mideast, Russia & MID-Asia, Africa, etc.
Flake Quality Reference - Food Grade
Moisture: < 0.9%

PVC: Average 25ppm. Max 45ppm

PE/PP: Max 5ppm

Metal: Max 5ppm

Glue: Max 10ppm

Wood: Max 5ppm

Labels: Max 5ppm

Others: Max 5ppm

Total Impurity: < 80 ppm

Flake Size: 8-10mm

Estimated Plant Parameters

Capacity

Power

Area (M

2

)

Labor

Water Supply

2000KG

600KW

900

6-8

12-15 ton/hr

3500KG

900KW

1000

7-10

15-20 ton/hr

Production Consumption

1

Water (Recycling System)

0.24 M

3

/ ton flake

2

Washing Detergent

5kg / ton flake

3

Steam

500kg / ton flake
7.Quality Control(plastic machine):
·
We have technical, engineer team design the sample machinery before enter into market
· Production QC team ensure the machine manufacturing quality
· We will running every machine after finished before shipment
· Optional choose by client running the machinery by material
8.Service System(plastic machine):
· Pre-sale: We given client the details technician offer, sign the sales contract etc.
· In-sales: We supply the details layout, installation instruction, technician support for the clients;
· After sales: We arrange engineer to install the machinery and training the workers for client;
· We have 24hours team to solve the after sales problem;
· We have free spare parts with the machine;
· We supply long term spare parts for every customer
· We always up date the new technology to every customer

9.Package and Loading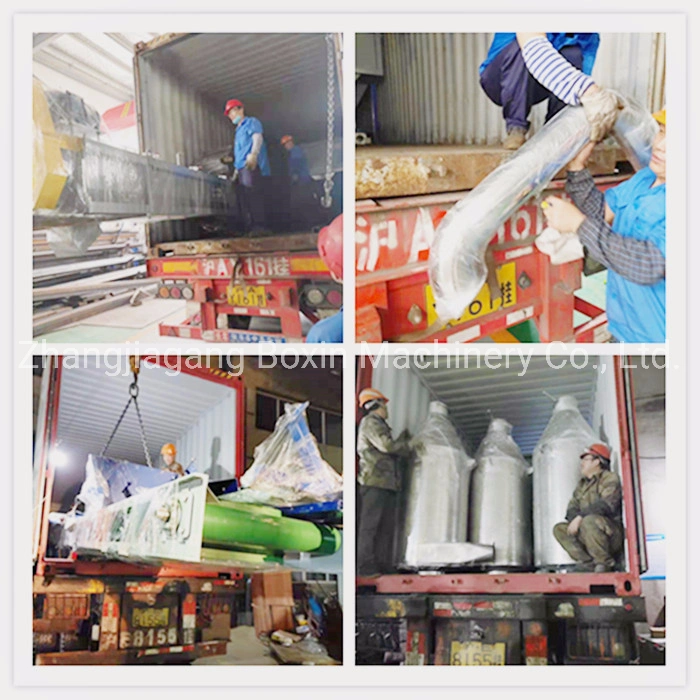 10.Certificates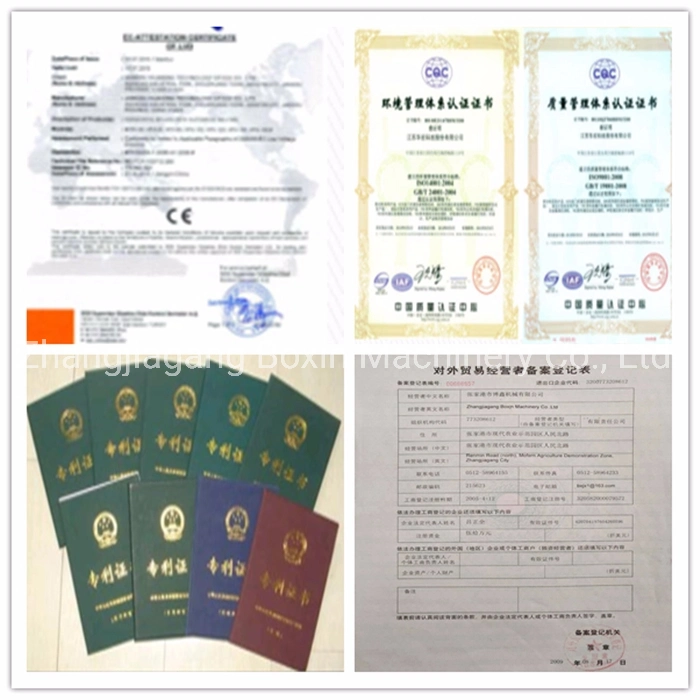 11.FAQ
YOU MIGHT INSTERESTED IN FOLLOWING QUESTIONS
1. Are you manufacturer or trading company?
We are a professional recycling machines manufacturer for more than 15years we supplying full technical support and solutions, timely and professional service, always effort on quality, honest, win-win business for every client.
2. How do you assistant to install the machine on worksite?
We are experienced on turn-key project, engineer and technicians will assistant client on construction, installation, commissioning.
3. How can I get spare parts for replacement in other countries?
Wearing parts like blades, it is necessary to buy with machine, other parts in stock could be delivery out by express if urgent or by sea within 5days.
4. Can I use mark machine with different LOGO and color?
Yes, please confirm details with sales.
5. Can your customers test the machines?
Before buying and after production before leaving factory, we test machine you interested or paid with specified materials, free of charge.

If you have any need ,pls feel free to contact with us.